Yelp now allows users to find a restaurant based on if it requires proof of vaccination or if all restaurant staff are vaccinated. (Photo: EyeSpyCC) 
Cities across the country are once again starting to mandate masking. In an effort to get ahead of future closures or lockdowns, restaurants and bars in those same communities are starting to require proof of COVID vaccinations from their customers. 
Currently, only a handful of Bay Area restaurants are requiring proof of vaccine, but expect many more establishments to follow. Already commonplace for most major sporting events and international travel, 'Vaccine Passports' will likely become commonplace for food & service industries.
Yelp is so confident of the trend, it recently added new filters to its social media platform to allow users to find restaurants based on 'Proof of vaccination required' and 'All staff vaccinated' in addition to 'Good for kids' and 'Takes reservations.'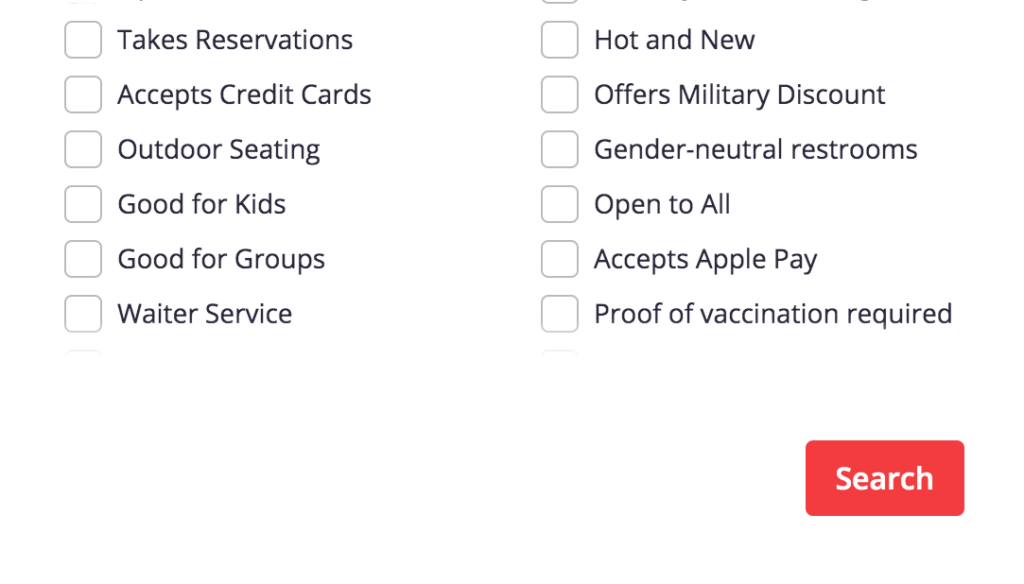 Yelp's search options now include 'Proof of vaccination required.' (Photo: EyeSpy CC/Yelp)
New Mask Requirements for Restaurants in SF & NYC
New Mask requirements for restaurants in SF & NYC will start to be the new normal for other metropolises. NYC will roll out a program in mid-September with vaccination requirements to enter dining or bar establishments. On the West Coast, in San Francisco, a group of bars has banded together to start their own vaccination requirement program.
Vaccinations have stalled in recent weeks, nationwide, about 58% of the U.S. population has received at least one dose of the COVID vaccine.
Review Bombing
The topic of vaccination remains a hot one for many – and one that restaurants are increasingly caught in the middle of – as businesses requiring proof of vaccine are often targeted. The owners of a bar in SF's Haight-Ashbury neighborhood were recently falsely identified as from "Nazi Germany."
As Yelp has seen a significant increase in 'review bombing' in response to businesses enforcing mask mandates, the update will be closely watched. Yelp says it will be "proactively monitoring Yelp pages of businesses that activate these attributes," in order to, "help protect businesses that may experience backlash for their vaccination policies." 
If warranted Yelp adds it will, "investigate and may temporarily disable the ability to post as we place an alert over the businesses reviews."  
Businesses can add the 'Proof of vaccination required' and 'All staff vaccinated' attributes to their business through their Yelp account. 
Managing Social in a Pandemic
Communicating with customers on social media that don't reason with logic can be frustrating and time consuming. A bad review can damage your reputation. Why not let social media professionals deal with the headaches? 
EyeSpy's Review Tracker tracks all your social feeds and keeps you in touch with your customers. Our reputation management for restaurants team can provide you with a strategy and execution plan – we can even execute it for you!